Less than two months to go until we kick off another wonderful summer in Europe! Here is a basic packing guide to follow while preparing for the Forum-Nexus month-long summer program, recommended by FN alumni. Feel free to customize this list of recommendations to your own personal needs and comforts. More packing tips and tricks to come!
 You might want to think twice before leaving home without these items. Here's our "packing for Europe Essentials" list: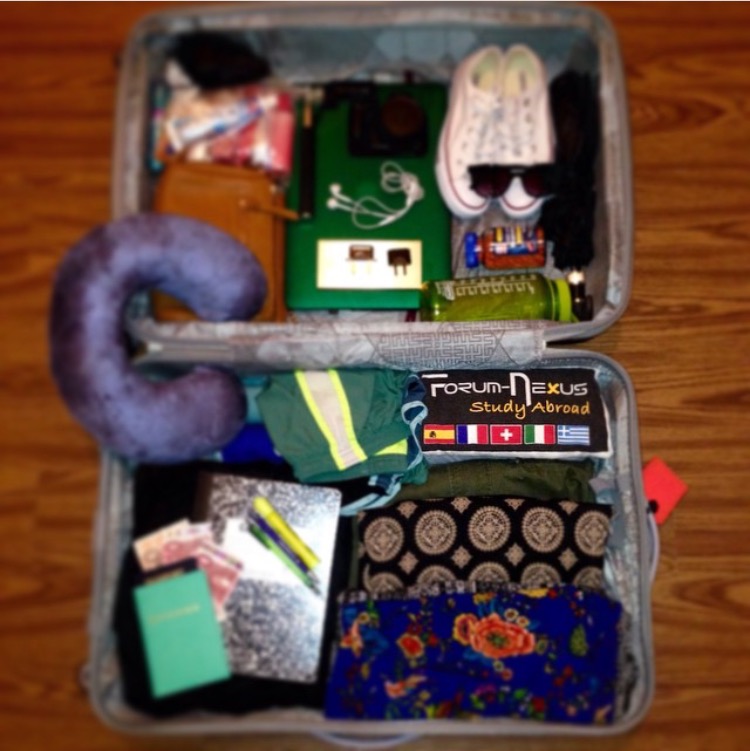 Clothing
-Casual attire for sightseeing, traveling, nightlife
-Casual professional attire for class
-Business casual attire for professional visits (recommended 5-8 outfits)
-Cocktail attire for graduation ceremony in Rhodes
-Active attire for swimming, exercising, etc.
-Comfortable walking shoes (really important!)
-Comfortable dress shoes
-Tennis shoes
-1 light jacket (tip:bring a rain jacket for multi-purpose ware)
*Insider tip: 30 days on the road does not mean 30 different outfits are needed. Mix and match clothes and pack light! Laundromats are available in each destination; use that to your advantage!
Toiletries
-tooth brush/toothpaste
-hair brush/comb
-contact/glasses care
-Advil/Tylenol and any prescriptions
-razor/shaving cream
-straightener/curling iron
*Insider tip: Hair dryers are available by request in each hotel
-shampoo/conditioner
-body wash
-feminine products, if applicable
*Insider tip: Most toiletries will be available at local markets and stores. Save room to pack light and buy once you make it to the first destination.
 Class supplies
-One notebook/binder with paper
-Writing utensils
-Required textbooks
NOTE: Laptop/tablet/reliable electronic device is recommended but not absolutely necessary
Miscellaneous
-Converters/Adapters for all electronic items
-Chargers for electronics
-Money for Euros (European currency)
*Insider tip: We recommend bringing 200-250 Euros upon arrival. The estimated cost for food is €25-30 per day.
-One bag/backpack/purse
-Passport
-Copies of credit cards, IDs, etc.
Still got a little room in the suitcase? Take a look at our "non-essential, but useful items" list:
-A small fold up umbrella
-Fold up plastic bag for grocery shopping
-Sunscreen
-Sunglasses
-1 hat for shade while walking around and sightseeing
-Laptop/Tablet/iPad highly recommended for classwork and personal use.
*Insider tip: Bring a tablet instead of a laptop to save room and weight in suitcase. Again, a full functioning laptop is not absolutely mandatory.
-Hand sanitizer
-Camera
-Neck pillow for travel (major key!)
-Portable charger/battery pack
-Water bottle for refilling
-Travel journal
-Laundry detergent packets (can be purchased at markets)
-iPod/MP3 player
And a few things to remember…
 Each Forum-Nexus student is permitted one suitcase and one "carry-on" bag.
Suitcase
Maximum length: 26″ (66 cm), Maximum width: 20″ (51 cm), Maximum height: 12′ (30 cm). Combined length + width + height cannot exceed 40″ (102 cm). The weight should not exceed 40 lbs (9 kg).
Carry-on
Combined length + width + height cannot exceed 40″ (102 km). The weight should not exceed 20 lbs (9 kg).
Due to the size of our group, space for luggage is limited and strictly enforced.Please reference the Forum-Nexus Pre-Orientation Guide for more information. Pack light! You will be responsible for carrying your own luggage. Also, save room for souvenirs and gifts purchased while abroad – you're bound to pick up one or two unique things. And finally, don't sweat it! Feel free to ask any Forum-Nexus staff member additional questions or for tips about packing.