My favorite professional visit throughout the entire trip was most definitely our visit to the Damm Brewery in Barcelona, Spain. During this visit, we were introduced to the history, marketing and distribution strategies, and company mission statement. The brewery, which was founded in 1876, is the oldest brewery in Spain. They still use the same recipe to make their beer: a mix of rice, hops, and barley malt. To uphold the high-quality flavor of their beer, they actually have three years' worth of yeast in reserve, which is stored under maximum security. Their most popular beer, a light pilsner, is the Estrella Damm.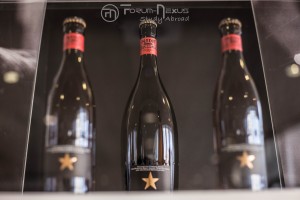 The word "estrella," translates to "star" in English. I had never heard of this beer before our visit to Spain, although coincidentally I ordered one at lunch the day before and enjoyed it. One of the most interesting parts of the visit for me was watching their TV ads throughout the years. The company's image and marketing campaigns evolved drastically from their earlier commercials. For example, one of their older TV spots featured psychedelic music and colors, with strange alien-like creatures dancing around the beer labels. To us, this ad is obviously very strange, but maybe in the 70's in Spain it resonated with the consumer and helped sales. Nowadays, all beer ads, no matter the country, are very similar. They often feature 20-somethings in the summertime, laughing and partying together. Their drink of choice is, of course, the brand being sold. The commercials, even internationally, are so similar that you could interchange any brand name.
As a marketing minor, all of this behind-the-scenes branding and public relations information was especially relevant and interesting to me. Even walking around, I could see myself working for a company like the Damm Brewery, helping with marketing and promotion. Another reason I really enjoyed this visit was because we also got to tour the facilities of the brewery and see first-hand how the beer was made. Although I could have done without the strong wheat smell, the humidity of the factory, and the many flights of stairs, it was definitely worth it to see how an international brand of my college drink of choice is made. Our tour included learning how beer is brewed, from the steeping of the grains to fermenting it with yeast (which lasts for three whole weeks), to the packaging and eventual distribution. Unlike a lot of beer companies, the Damm Brewery has their own malthouse.
Predictably, my favorite part of the visit was when we got to taste the beer. I tasted the Damm Lemon 6-4, which is six parts beer and four parts lemonade. It was obviously delicious. Although every professional visit that we had taught me more about business and culture than any class could teach me, the hands-on professional visits, like our visit to the Damm Brewery, were definitely the most interesting and relevant.
By: Hannah Batsche, 2015 Forum-Nexus alumnae