Study and travel review website GoOverseas has announced the winners of their first-ever Community Choice Awards – highlighting the study abroad program providers who received top scores in various categories from student who have written reviews on GoOverseas. Three top providers were announced in each category, based on reviews from the 2018 calendar year.
We're honored to share that Forum-Nexus came in as the #1 provider in the Housing category, and #2 in the Academics category! We know that reviews matter when choosing a study abroad program, and we greatly appreciate all of the reviews that our alumni have written, sharing about their experience studying abroad with us.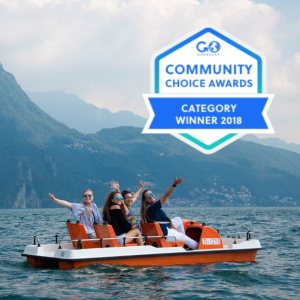 So, what's so great about our academics and housing, anyway? They're two of many aspects that make Forum-Nexus programs unique!
Our Academics
As a multi-country study abroad program provider, we offer a consistent academic experience in an ever-changing environment. This unconventional way to learn is what so many of our students enjoy most – that they get to take a variety of courses taught by top professors who travel with them and the world really is their classroom. Our international faculty team brings together their own experiences teaching and living around the globe, combined with interesting and relevant learning material.
Sometimes classes are held in the conference center of our hotel (more on hotels below!), and sometimes they're held at a host university for the day – giving an inside look at what it's like to attend a university abroad. This variety keeps class exciting and interesting every day. We've even had alumni who have gone back to one of those universities to complete their graduate degree!
In addition to the learning that takes place inside the classroom, there are two important components of every class that take place outside of class time – Professional Visits (PVs) and Independent Cultural Visits (ICVs).
Professional Visits take place at global companies and organizations throughout a Forum-Nexus program. They are part of the course requirements and typically include a tour of the facility and a lecture from a representative or team of representatives. PVs are opportunities to get an inside look at a prominent organization that tourists visiting a city can't easily get. As a Forum-Nexus student, you discuss and reflect on your experiences in class following a Professional Visit. You might even get some ideas for future career options during a PV, too!
Independent Cultural Visits are on-your-own activities that help you to further connect with the city/country you're in. This could include a visit to a museum or cultural site, traditional performance of music, theatre, or dance, or another type of immersive learning experience. You have the flexibility to participate in ICVs that interest you most, and you report on them and relate them back to what you've learned in the classroom as part of your academic experience.
Our Housing
Another special aspect of Forum-Nexus summer study abroad programs is the accommodations. We stay in 4 and 5-star hotels throughout our programs as we travel from city to city every few days. The hotels are equipped with conference and business centers for your academic needs, plus a variety of amenities to make your experience as comfortable as possible. You can have the chance to practice your basic language skills with hotel staff, take advantage of the complimentary guest benefits like toiletry items, and explore the local neighborhood around the hotel. Each morning, the Forum-Nexus group enjoys breakfast together (breakfast is included in the program fees) before starting the day.
Study by the pool, work out at the hotel gym, or catch amazing (and free) rooftop views – our top quality housing makes traveling and studying abroad extra exciting, safe, and comfortable!
We received these awards based on the reviews that our alumni have written on GoOverseas. To check them out,  click here.
Ready to embark on a study abroad adventure with us? Apply online here!