Since 1990, Forum-Nexus has provided one-of-a-kind study abroad programs for 27 years to over 3,300 students and counting. Our team of faculty and staff is made up of internationally diverse, successful individuals who are all equally passionate about travel and education. For the next few months, we'll be sharing Q&As with those who lead the FN team year-round.
We sat down with Program Director Dr. Hugo Hervitz, founder of Forum-Nexus Study Abroad, to ask him everything from what inspired him to start a multi-country study abroad program to where he wants to travel to next. Here's what you should know about him… #thisisForumNexus
Q: Tell us about your background. In what cities and countries have you lived? Where did you study?
HH: I was born in Argentina and I have lived in Europe, the Middle East, and the U.S. I have a Master's degree in Management from Imperial College in London, another Master's degree in Economics and Latin American Studies from the University of Pittsburgh, and a PhD in Economics from Indiana University. I have been a professor of Economics and International Business in Miami for many years. My wife is a clinical psychologist. We have three children who live in New York and Chicago.
Q: What languages do you speak?
HH: I speak 10 languages. Five fluently, two at an intermediate level, and I have basic knowledge of three more. Spanish is my native language. I use it quite a bit with family and friends, and when we are in Barcelona during Forum-Nexus. Our three children are US-born but we made a point of speaking to them in Spanish, so now they are fluent. When I lived inJerusalem I learned Hebrew and Arabic. I have traveled extensively in Europe and I learned French, Italian, and German. I love Brazil and I learned Portuguese, which is quite easy for Spanish speakers. In recent years I've acquired a basic knowledge of Russian and Greek. I am now in the early stages of learning Mandarin Chinese in preparation for a new Forum-Nexus program in China, scheduled for Summer 2018. I love learning languages. Speaking other languages makes it so much easier to understand other cultures. It's fun and it's not hard. You just need the motivation! You can always find time in your schedule if you decide that learning a new language is an important priority.
 Q: What are your academic and professional activities during the fall and spring?
HH: I direct and coordinate the year-long work of the Forum-Nexus staff, involving the work of admission counselors, our social media team, contacts with the universities, processing of transcripts, addition of new courses and new professors, contacting companies for professional visits, addition of new cities and hotels, etc. I am also an Adjunct Professor of Economics at the Huizenga College of Business at Nova Southeastern University.
 Q: Why did you start Forum-Nexus?
HH: Twenty-seven years ago, in the early days of globalization and soon after the fall of the Berlin Wall, a lot of things were happening in the world, especially in Europe. The international business course I was teaching in Miami required students to understand how countries differ in their economic, political, and cultural environments. I realized that I can impart quite a bit of knowledge through lectures and class discussions on campus, but learning can be more real, more intense, more personal, and more profound if it's experiential; that is, if I can bring the students to the countries being studied and let them experience the local culture, observe the local economy first-hand, visit local companies and international organizations, talk to government officials and business leaders, talk to local students, interact with local waiters and taxi drivers, and understand the locals' pride in their history and culture. I realized that being there was not just a better way for the students to acquire a more sophisticated level of knowledge, but also a way for the students to be more emotionally engaged with the new culture, to have more understanding, more empathy towards cultural differences. So, I decided to start a yearly summer program that would include 3-credit international courses taught on-site in various attractive European cities.
Q: Describe your role during the Forum-Nexus summer program.
HH: During the 5 weeks of the program in Europe my main responsibilities are:
-Being the program director, making sure that everything runs smoothly and ensuring that everybody has an amazing experience
-Teaching the International IQ Seminar, which is a course that all FN students take. The idea is to raise everyone's level of International IQ by providing the essential knowledge that they should have about European history, geography, current events, art, culture, etc. It's a very popular course, and my teaching style is to cover the material in a fun and informal way.
-Lastly, and most importantly (!), I am responsible for making sure that there is a lot of happy music (and dancing) everywhere we go :)  – in particular on the bus rides and train rides. I have to maintain my reputation as…DJ HUGO!
 Q: What sets FN apart from other programs?
HH: There are a number of elements that combine to make Forum-Nexus programs quite unique:
-Instead of staying the whole month in a single city, the program is multi-country, allowing the students to be exposed to the culture and environment of several countries in one summer.
-There is a very close and warm relationship between the professors and the students, on and off class time. The professors are very experienced and come from different countries, and travel together with the students from country to country.
-The program includes numerous visits to European companies and international organizations. These are activities that you don't get to do as a tourist. You learn a lot by interacting with business leaders and government officials.
-The participating students come from several countries, so there is a lot of learning that takes place by developing close friendships with young, intelligent, and cool people who live and study in totally different environments.
-The style of the program/the vibe of the program is relaxed and friendly. We are like family. We travel together through the best cities in Europe, learning a lot, while having a great time!
 Q: What do you find special about FN students?
HH: FN students are an amazing group of warm, bright, and ambitious young people who want to learn about the world, encounter new cultures, make new friends, acquire state-of-the-art knowledge and skills, acquire foreign language skills, and who realize that international knowledge and experience are becoming essential for successful careers in most fields.
 Q: What do you find special about Europe?
HH: Europe is an enchanting continent. So much history, so many beautiful cities, towns, cathedrals, and landscapes within really short distances. And, above all, so much cultural diversity. Europe is an amazing laboratory for learning and understanding how societies cooperate and prosper, how Europe has been the birthplace of so many brilliant ideas, discoveries, and works of art, but also, a critical look at European history offers plenty of cautionary notes about how countries and empires fall apart as a result of political or economic mistakes.
 Q: Why is knowledge of Europe important?
HH: We are experiencing many winds of change in the international arena. China and Asia are emerging as stronger economic and political players, and both the US and the European Union are undergoing important political transformations that may determine new directions for the future. This is a crucial period for understanding the achievements and failures of the European Union and understanding the changes that are likely to occur in the next few years and being ready for them.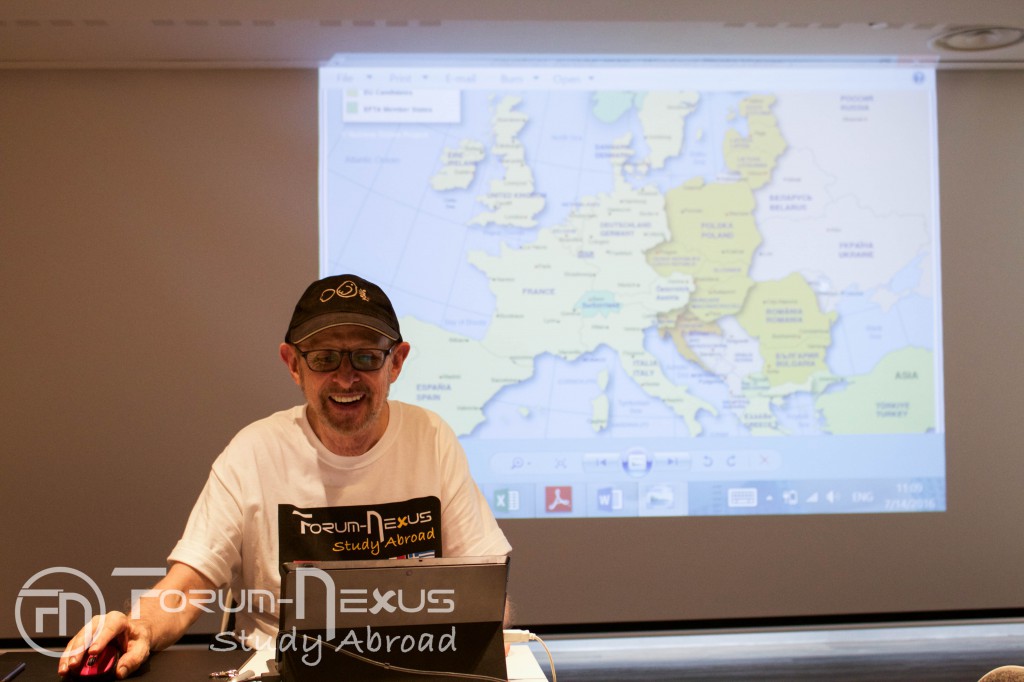 Q: How does participating in FN help students with their future careers?
HH: Employers are looking for individuals who are competent in their field of expertise (say finance, marketing, communication) but who also have street smarts, knowledge about the real world, experience traveling, ability to deal with cultural differences, and flexibility in coping with new situations. All of these skills are honed at Forum-Nexus. FN alumni tell us all the time how often during job interviews the interviewers are impressed by the student having personal experience visiting important European companies and international organizations. These kind of experiences certainly strengthen their resumes.
 Q: Which are your favorite cities in the FN itinerary and why?
HH: Each city in the itinerary has something special, something unique. I really love them all! Barcelona is an incredibly vibrant city — the people, the architecture, the beaches, the mountains, the food, the nightlife. The beauty of Paris is incredible. The river and its bridges are so picturesque and romantic. I love the French language and listening to accordion music on a sidewalk café. So many beautiful monuments and museums. I am also crazy about Italian cities. The warmth of the people, the musicality of the language, the colors of the cities, being surrounded by history everywhere, the fact that the pizza and the pasta are so good and affordable! Greece is culturally like an extension of Italy, in that the people are warm, emotional, and love music and dancing, with the addition of the beautiful Greek island landscapes, with blue seas everywhere, plus so much history around. In the middle of the program we spend several days in the mountain resort of Chamonix, which is very close to being in paradise! A small and pretty town, with lots of flowers, surrounded by snowy mountains and forests, waterfalls, and lakes.
 Q: What is your advice to FN students about how to benefit the most from their experience?
HH: I tell the students to do some homework before the start of the program by reading about each city, its history, its culture, and the main attractions to visit, in order to be better prepared to make optimal use of their time. Also, I encourage them to take advantage of the program for improving their language skills: improve their Spanish, learn the basics of French and Italian, learn the Greek alphabet, etc. But above all, my advice is to start the program with an open mind about other societies and other cultures. The name of the game is not to decide who is better, but rather to celebrate the beauty of diversity and cultural differences.

For more information on our upcoming programs, visit www.forum-nexus.com. Be sure to also follow us on Facebook, Twitter, and Instagram, and check out our blog and YouTube channel.