What do weekends mean to Forum-Nexus? Travel getaways, of course! Europe is full of beautiful places and countries rich in culture – it can be hard to narrow down just one city to explore. Past student Holly Kerr shares the details of her time in Madrid during her free travel weekend and why she is so glad she decided to go!
Q: Even though Madrid is one of our recommend weekend trips, why did you choose to go there instead of Ibiza or another Spanish city?
HK: I chose to go to Madrid because I originally wanted to go to Morocco, but that trip did not work out. :( Ibiza seemed too much of a party place for my taste.  I wanted to see more sights and learn more about the Spanish culture so in my opinion, Madrid was the next best thing.
Q: Describe your day/weekend in Madrid. What was it like? What types of things did you do/see?
HK: My Forum-Nexus friends and I were in Madrid during the Pride Parade. It was crowded and crazy, but it was so much fun. We did so many things in the full day we were there.  We went to the Prado museum, visited the Palacio Real de Madrid, stopped at a bookstore, and even saw an authentic flamenco show!
Q: Would you recommend this weekend excursion spot to future students? If so, why?
HK: Yes! I actually liked Madrid more than I liked Barcelona. Madrid has an older and more authentic feel. It was certainly a different experience.
Q: What items would you suggest bringing for a trip getaway to Madrid? How much money?
HK: I think the typical items you would bring on a weekend trip are necessary. Try to avoid bringing anything extra; travelling light it always the best policy! Bring enough money for a full day- breakfast, lunch, and dinner then however many days you choose to stay. Remember to budget for hotel/hostel arrangements, any sightseeing/attractions you choose to do, and extra money for souvenirs.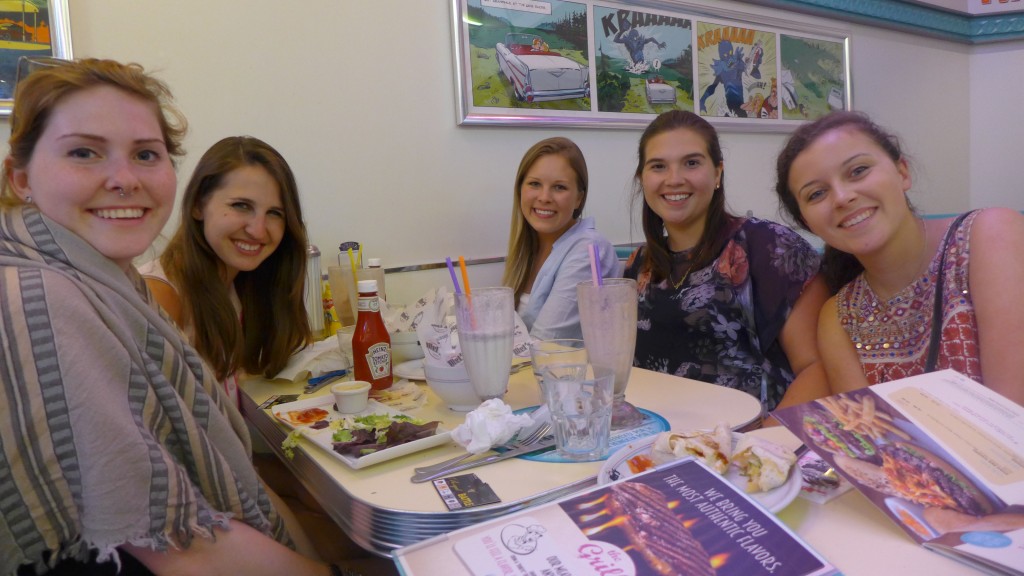 Q: If you could go back again, would you do anything differently? Try out different parts of the city? Restaurants? Attractions?
HK: I might do it differently just to see more things, but if I were to change my first time, then my answer is no! I think I got to see a good amount of the city with all of the activities we did.
By: Holly Kerr, 2015 Forum-Nexus alumna