At Forum-Nexus, we've been offering multi-country summer study abroad programs in Europe for the past 30 years. Our programs have always involved traveling to multiple cities and countries in the summer, exclusive professional visits to international companies and organizations, an emphasis on increasing and improving International IQ, and creating a family atmosphere of new friends from around the world who have a life-changing experience learning and traveling together.
We're celebrating 30 years of study abroad programs with the Ultimate Summer in Europe: 10 amazing cities in 5 weeks! Our best itinerary yet with more options than ever before. This is Forum-Nexus!
Ultimate Summer in Europe: 10 Cities in 5 Weeks
Destination 1 |  London, England
Begin your journey abroad in the capital of the United Kingdom! London offers a combination of famous tourist attractions along with charming local neighborhoods to discover. It's one of the world's most important global cities and home to a variety of institutions in finance, education, healthcare, media, fashion, research, and transportation. Catch views of Big Ben, ride on the London Eye, or visit Buckingham Palace in your free time!
Destination 2 | Paris, France
From London, Forum-Nexus students, faculty, and staff travel together by high-speed train to the "City of Light" – Paris! Enjoy a free day on Sunday to explore the city or take a day trip to the Palace of Versailles.
While in Paris, you will have the opportunity to visit important French and international companies, as well as take classes on the campus of a local university. You'll also have the chance to visit the Louvre Museum, the Notre Dame Cathedral, the Arc de Triomphe, and the iconic Eiffel Tower! During a free afternoon, you can stroll along the banks of the Seine River or window shop on the Champs-Elysées.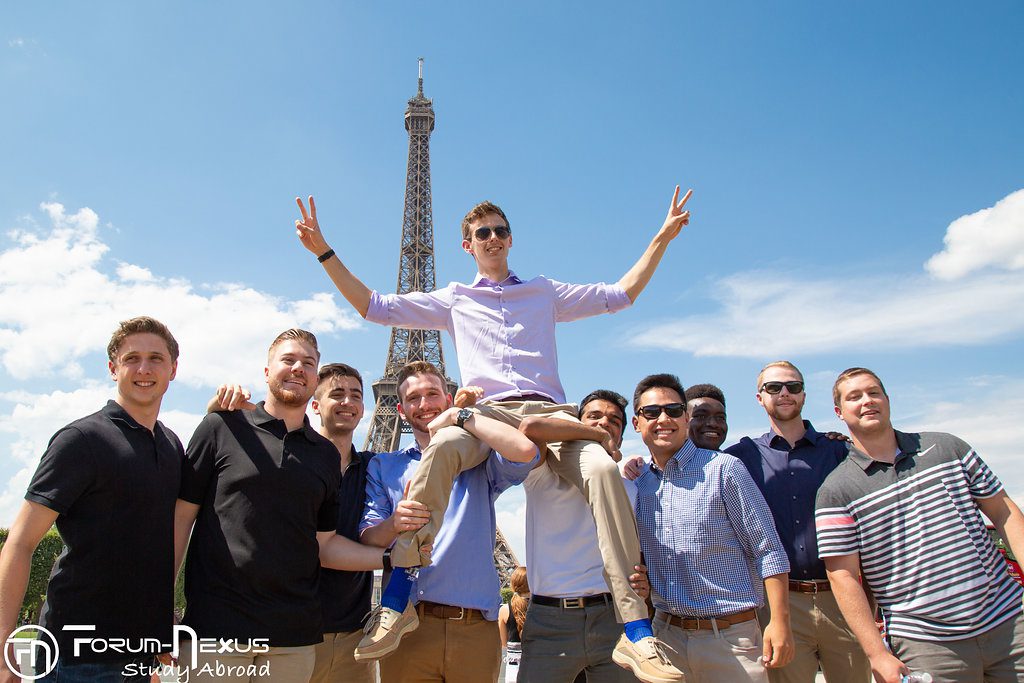 Destination 3 | Brussels, Belgium
From Paris, we travel together by private bus to Amsterdam, with a stop for sightseeing in the heart of Europe – Brussels, Belgium! Brussels is home to the headquarters of the European Union and hundreds of other multinational organizations.
Destination 4 | Amsterdam, Netherlands
After a day in Brussels, we continue on to Amsterdam, the capital city of the Netherlands. Amsterdam is known for its charming 17th century canals, unique architecture, and rich history. While in Amsterdam, you will have the opportunity to visit the Van Gogh Museum, explore the Rijksmuseum, tour the Anne Frank House, or take a bike ride around the city.
Destination 5 | Berlin, Germany
Continuing east in Europe, we will travel from Amsterdam to Berlin, the capital of Germany, rich with history, famous monuments and museums, trendy restaurants, captivating street art, and gorgeous city parks.
A visit to East Berlin and the remnants of the Berlin Wall is a great opportunity to reflect on the profound transformations Eastern Europe has experienced in the last three decades. Classes in Berlin will take place in the hotel's conference center.
Destination 6 | Milan, Italy
Arriving to Milan over the weekend, you'll have the chance to spend your Sunday enjoying Italy's proud capital of business, finance, and fashion, or taking an Independent Weekend Day Trip to Venice or Cinque Terre.
Milan is famous for the Duomo, one of the grandest Gothic cathedrals in the world, Leonardo da Vinci's painting The Last Supper, and the world-class La Scala Opera House. Milan is considered a shopping paradise: The designer district is home to the flagship stores of Armani, Versace, Moschino, Prada, and many more.
Destinations 7 & 8 |  Lake Como, Italy and Lugano, Switzerland 
On Monday, we'll take a day trip to the Italian city of Como and the Swiss city of Lugano. Como has a charming historic center with many piazzas filled with restaurants and cafes, an impressive cathedral, and a very picturesque waterfront on Lake Como. The city built its wealth on the silk industry and it remains Europe's most important producer of silk products.
Lugano is a popular tourist destination in Switzerland. Besides its natural beauty, Lugano is also an important center of banking, business, and higher education. We will visit the esteemed campus of Franklin University Switzerland, a U.S.-accredited liberal arts university with a highly international student body.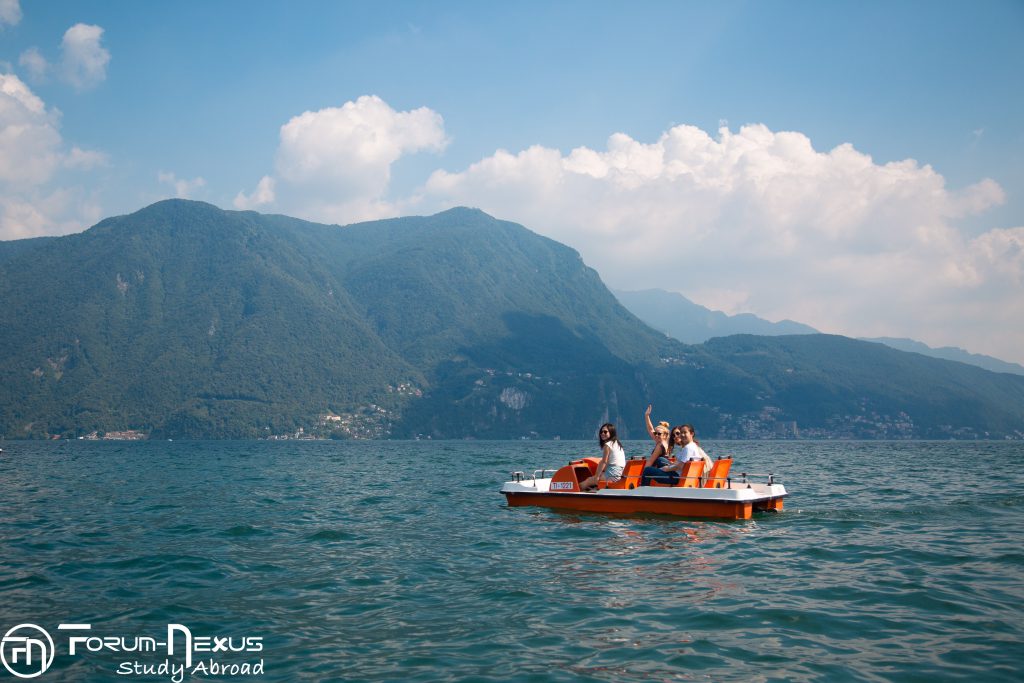 Destination 9 | Rome, Italy
From Milan we travel by high-speed train to the eternal city of Rome!
You will be able to visit the impressive St. Peter's Basilica and Michelangelo's Sistine Chapel in Vatican City, as well as the Coliseum, the Spanish Steps, and the Trevi Fountain. Not to mention gelato on every corner!
Destination 10 | Island of Rhodes, Greece
From Rome we will fly to Rhodes, one of Greece's most attractive islands.
You will stay in a beautiful 5-star beachside resort, attend classes in the resort's conference center, and have the opportunity to visit the charming Old Town, encircled by medieval walls. Dive into the culture and tradition of Ancient Greece while enjoying the final days of your summer study abroad experience!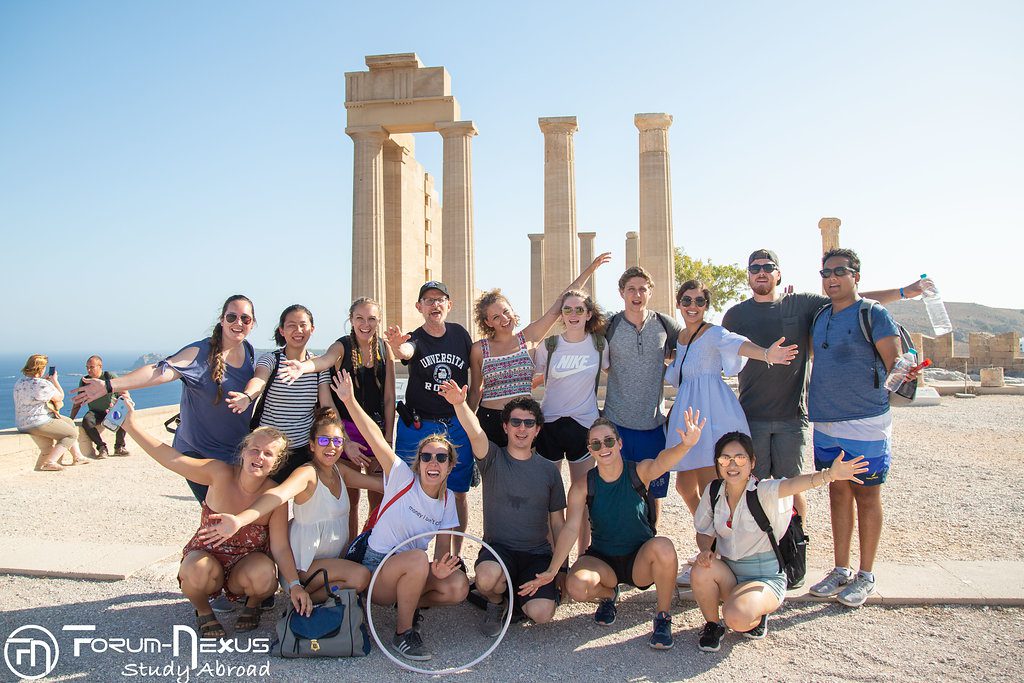 During a summer with Forum-Nexus, you can expect to learn a lot, make new friends from around the world, try new things, take interesting classes, and have a life-changing experience. You can visit even more cities and countries over the weekends, such as Santorini, Barcelona, Dublin, Prague, and more! Shorter, 3-week intensive study abroad sessions are also available.
Ready to have the Ultimate Summer in Europe? It's free and easy to apply here – and if you apply by October 31st, you'll automatically receive our October Early Bird Discount!