It is really very difficult to pick one city as a favorite out of all the truly wonderful places that we visited, Barcelona was the first city and it was an amazing start! I landed alone at the airport and took a bus ride to the hotel – that is where my adventure started. It was my first time in Europe and the charm and beauty of the city quickly got hold of me.
The Forum-Nexus hotel was in Plaza de Espana which is a vibrant and important square in Barcelona, very near to the centre of the city. There was much to see just around the hotel and near the Plaza, including a museum and some architectural sights. (I would suggest you that every city you go to, spend the first day or the first few hours walking around the hotel, watching the people pass by and absorbing the atmosphere of the new environment.) Most of the brilliant architecture in Barcelona is the work of a famous Catalan architect, Antoni Gaudi and his team. He had a distinctive style as is visible in places like Park Guell, which I got a chance to visit. There were some nice beaches in and a few miles outside the city, the nightlife of Barcelona is also quite interesting – it is one of the few cities that never sleep!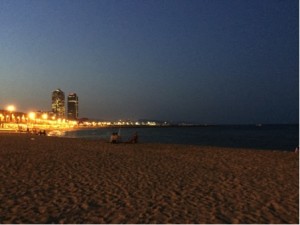 The people of Spain are one of the nicest in Europe and will be always happy to talk to you and make you feel welcome. Just sit at any of the restaurants on the street and you will be served with all the love and warmth they can offer. For me, coming from India, these things made me feel like home. A different language may be intimidating, but you will be able to find your way through it.
Meeting all the other students for the first time also made it a lovely experience. Everyone is there to explore the world and learn about new cultures. Forum-Nexus includes students from a variety of different countries. Understanding the differences between people was a new and important experience for me. Of course, you will make friends and spend most of your time with people who share the same interests.
To summarize, I would say that each place and its people make you learn something new  about Europe, and give you something to appreciate. Visiting a new city and meeting new people is always filled with good and maybe a small bad experience, but focussing on the positive will help you in making it a memorable experience.
 By: Ishmeet Sethi, 2015 Forum-Nexus alum