While every city that we visited this month was incredible in its own way, my favorite city was Paris, France. My best friend Julia and I decided at the last minute to book a weekend trip to this magical city with a group of students who we had met the week before. To start, it was so wonderful to meet so many amazing students who quickly convinced us that the Paris weekend trip was a must. Soon after, we had our flights booked as well as a (surprisingly cheap) hotel room in a historic Parisian hotel.
Following Friday class in Chamonix, our group piled into a van and made the trek from Chamonix to the Geneva airport in Switzerland. After an easy one hour flight from Geneva we arrived in the beautiful city of Paris, and it is safe to say that it was love at first sight. Further, my first impression of Paris was pure awe. As an iconic location that I have seen in pictures and movies for my entire life, it was truly a dream to be standing in the middle of it all. I soon realized that Paris is by no means overrated, but rather upholds a beauty and romance that cannot be portrayed in pictures or even described in words. More specifically, when walking through the streets, almost every building holds its own history, with monuments left and right. I also found that, in general, the city felt very clean, safe, and romantic. In addition to seeing many of the most famous monuments including the Eiffel Tower, the Louvre, and the Tuileries, I enjoyed some of the best meals of my life! For two and a half days I maintained a steady diet of croissants, macaroons, steak and frites, baguettes, cheese, and of course, the occasional French wine pairing. Specifically, our typical French breakfast at the world-famous Laduree was one of the best meals of the trip!
To add to this wonderful experience, Julia and I met up with our friend from our university at home who was studying abroad in Paris for a whole year. This was a great touch to our perfect weekend as we had our own personal tour guide to bring us to locations not frequented by tourists. This part of our trip really helped us get the flavor of the city through the eye of a local while seeing as much as we could in a short period of time.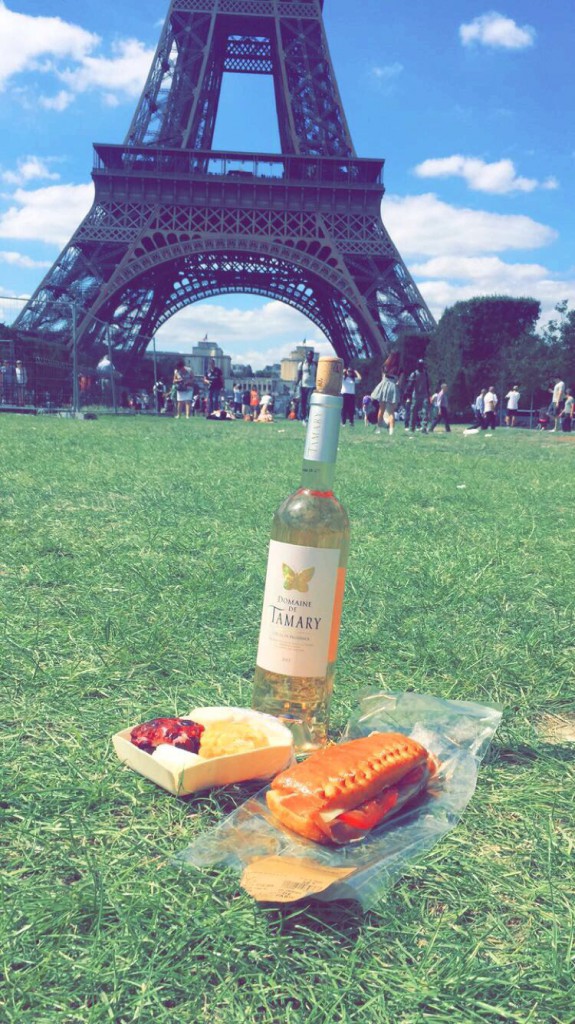 In this experience, I was pleasantly surprised to break some common stereotypes or misconceptions about the city. More specifically, while many warned me that Parisians dislike Americans and can be very rude, my experience actually proved the opposite. In my short trip, I met many friendly locals who were more than welcoming and willing to give recommendations and or directions.
Overall, my weekend in Paris was a wonderful experience that I would recommend to anyone taking this program in the future. In one short weekend I would recommend a picnic at the Eiffel Tower (with meats and cheeses from a local market), a walk through the Louvre, walking around the beautiful streets of Champs Elysee, taking a boat tour on the Seine river, and finally getting lost in the indescribable city with new friends!
By:  Alexandra M., Forum-Nexus 2016 Alumna